VCHD Cargo has added swap bodies to its fleet. By acquiring these special freight containers for road transport, the company will be able to offer to their customers more flexibility of shipment planning and a more efficient use of the loading space. A tandem vehicle with swap bodies provides 13% more in loading capacity compared with a regular trailer. The company will use the swap bodies primarily to serve parcel shipment customers.
VCHD Cargo owns its own fleet of 200 towing vehicles and 180 trailers. The company has recently added a new type of trailer – the swap body – to its portfolio. "Swap bodies are a great solution for certain types of line services as they can also be used as flexible and temporary storage units. They also allow us to maximise vehicle utilisation and minimise loading and unloading times," says Ing. Petr, Kozel, CEO and President of VCHD Cargo a.s., emphasising that "this is a huge benefit given the current constant pressures on the speed of delivery."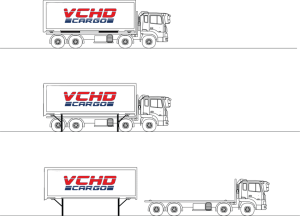 Swap body manipulation  – detaching from the vehicle
A swap body is similar to a regular shipping container. It has standard parameters and dimensions and up-folding legs designed for easy detachment from the vehicle. VCHD Cargo monitors statistics on the utilisation and efficiency of its vehicles and, compared with standard trailers, swap bodies prove to be a more efficient solution. "From practice we know that a tandem vehicle with one trailer and two swap bodies can be more economical in certain situations both in terms of time and in terms of money – one driver can serve the same number of customers in a shorter amount of time. As many as three drivers can alternate on the same vehicle so that it is in use practically 24 hours a day. What's more, swap bodies are very easy and safe to manipulate with," Petr Kozel lists the advantages and ads that "the entire process of swapping one swap body for another takes an experience driver approximately 15 to 20 minutes, which saves a huge amount of time if we consider that the vehicle does not have to wait for goods to be loaded. This allows a very high degree of accuracy on delivery." Furthermore, VCHD Cargo appreciates the longer distances that swap body vehicles can achieve.
VCHD Cargo acquired C782 swap bodies with dimensions of 7820 x 2550 x 2750 mm (l x w x h) and maximum total weight of 18 tonnes. Thanks to the internal dimensions, a tandem vehicle with two swap bodies can carry 38 EUR-pallets, which is 5 pallets more than what a regular trailer can fit in. Another advantage is the rear roller shutter and the possibility to stack up to three empty swap bodies on top of each other.
"Considering how long delivery times are at the moment, we are very happy that we have decided to order the swap bodies this spring before the acute steel shortages that have since hit the global markets and that have affected the production of swap bodies as well as other towing vehicles and trailers," Petr Kozel reflects on the current market situation, concluding "we will use swap bodies primarily to serve parcel customers."